We are three fiddlers from three very different backgrounds – Danish, American, and Native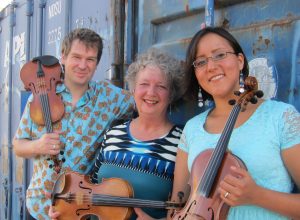 American – who love to play together. Jamie's Métis tradition, evolved from the melding of French Canadian, Irish and Native American music, has a Celtic flavor with a hint of Native American drumming. Kristian's Danish tradition combines bright Nordic melodies with a powerful rhythm and lively fiddle seconding. Ruthie's American style is syncopated and a bit bluesy. We like to show how each culture brings its own voice to the fiddle. But sometimes we just combine our styles and see what happens! We hope that you will enjoy listening to it, just as much as we enjoy playing it.
See the full tour schedule under upcoming gigs!
*Visit:
www.3fiddlers3traditions.com
www.soundcloud.com/3fiddlers
www.ruthiedornfeld.com