3 FIDDLERS 3 TRADITIONS (Denmark/USA)
We are three fiddlers from three very different backgrounds – Danish, American, and Native American – who love to play together. Jamie's Métis tradition, evolved from the melding of French Canadian, Irish and Native American music, has a Celtic flavor with a hint of Native American drumming. Kristian's Danish tradition combines bright Nordic melodies with a powerful rhythm and lively fiddle seconding. Ruthie's American style is syncopated and a bit bluesy. We like to show how each culture brings its own voice to the fiddle. But sometimes we just combine our styles and see what happens! We hope that you will enjoy listening to it, just as much as we enjoy playing it.
You'll hear the fiddle in its purest form, unaccompanied, as we each do a solo set and talk about the music. Together, we play in duets and trios, using only fiddles for accompaniment. We also feature a few tunes on the 5-string medieval fiddle ("vielle"). Most of our music is traditional, but we have a few distinctive originals as well.
Bugge (Denmark) is widely considered a master of traditional Danish music while Dornfeld (Oregon) is regarded as an expert of old-time American songs, as well as styles ranging from Celtic to Scandinavian folk. Lastly, Fox (Montana) is one of the most well-known young players of Métis fiddle music which is mired in a tradition crossing ties of Celtic, French and Native American music cultures. This contrast in approach and style helps to create a complex and sundry sound.
Together, Bugge, Dornfeld and Fox perform a "groovy and warming" set that interchanges between each performer's strengths. This creates a versatile array of melodies that sends the listener's ears to distant lands… certainly a performance not to be missed.
The three have played a large number of concerts in the western United States and Canada. In February 2017, they went on their first tour around Denmark and with that they released their first trio CD. Here you can listen some tracks from it: www.soundcloud.com/3fiddlers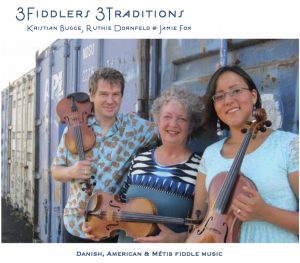 *Visit:
www.3fiddlers3traditions.com
www.ruthiedornfeld.com
Video: www.youtube.com/watch?v=QpQzzA2rBdM