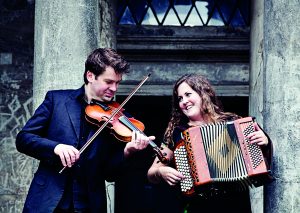 – A young but experienced folk music duo, Danish traditional music on fiddle and accordion!
JENSEN & BUGGE already met as kids when they lived 3 kms distance from each other – near Vejle on the Danish mainland, Jutland. Although they got on the bus at the same stop through most of the school years, it lasted long before they discovered that they shared an interest in playing folk music. In fact they only really came to enjoy each other's company after they both in (in 2001) attended the studies at the Carl Nielsen Music Academy in Odense, Denmark.
In 2017, it will be sixteen years since Mette and Kristian formed the folk music duo, JENSEN & BUGGE. Over the years both of them have won coveted prizes at the Danish Music Award Folk (Danish Grammy). In 2007 Mette was awarded "Danish Traditional Artist of the Year," in 2006 at the same event Kristian received the awards for "Danish Folk Debut of the Year" and "Folk Instrumentalist of the Year." In 2016 he also was awarded "Danish Folk Musician of the Year!" And in November 2012 the duo had the honor to receive the "Tradition-award" together at Danish Music Award Folk!
JENSEN & BUGGE have played a large number of concerts in Denmark and many other countries, such as USA, Canada, Faroe Islands, Norway, Sweden, Finland, South Korea and Poland. Their performances includes festivals, folk clubs, house concerts, schools, churches, stadiums, dance halls etc..
They have extensive experience and share a big love in playing for dancing, both together and separately or with other musicians. As well as teaching numerous workshops both on their individual instruments, in larger ensemble groups and instructing the traditional dances and more..
JENSEN & BUGGE have a great friendship and collaboration with Dwight Lamb from Onawa, Iowa. They have toured both in the USA and Denmark and released two CDs together. "Dwight Lamb, Jensen & Bugge live in Denmark 2010" and "Dwight Lamb, Jensen & Bugge live in Denmark 2013, part two." Both are available via Missouri Valley Music in America and Go Danish Folk Music in Denmark.
The duo's realeases are available via the record company, Go Danish Folk Music, more info here!
CDs:
"Greatest hits" 2021
"Jensen & Bugge + Høirup – Slid din tid" 2015
"Dwight Lamb, Jensen & Bugge live in Denmark 2013, part two"
"Sea & Land – 10 years with Danish Traditional Music" 2011
"Dwight Lamb, Jensen & Bugge live in Denmark 2010"
DVD: "Projekt Dialekt" 2010
Music journalist Chris Nickson (fROOTS and Sing Out!) writes on his blog: Project Dialekt is something that's eminently satisfying. It gives a context for everything, a feel for local history, for time and place. Musically it's all wonderfully smooth and played with gusto and pleasure. It helps to preserve things, which is no mean feat, and serves as a reminder that traditions are living things, not to be left in museums.
Website: www.jensen-bugge.dk
Facebook: www.facebook.com/jensenbugge