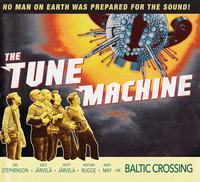 No man on earth was prepared for the sound!!!
Description:
Baltic Crossing now follow up on their previous Danish Music Awarded and nominated cd's "Baltic Crossing" GO0508(2008) and "Firetour" GO1310 (2010).
Baltic Crossing uses their strong affinity for old dance music and respect for each other's traditions to bring a new youthful energy to the folk music of Europe.
Wherever they meet, at least one must cross the Baltic Sea.
Baltic Crossing performs with a strong energy and it is clear to everyone how they enjoy playing together. In combination with a very high technical and musical level this gives the audience an extraordinary experience. It's hard to sit down to their music and they have also been playing for all imaginable kinds of dancing.
Guest Timo Alakotila – piano
Baltic Crossing is
Kristian Bugge (DK) fiddle
Esko Järvelä (FI) – fiddle, viola and harmonium
Antti Järvelä (FI) – double bass, mandolin, fiddle and harmonium,
Andy May (UK) – Northumbrian pipes, piano
Ian Stephenson (UK) – guitar, melodeon
Guest
Timo Alakotila – piano
1. Risumäki Satianen
2. Goodnight Salonkylä
3. International Jigs
4. Marches
5. Menuet from Falster
6. Schottische
7. Central Point
8. Slängpolska
9. Regular set
10. Emily Rock
11. Whirling Waltz
12. New Fanø
13. Wedding Guests