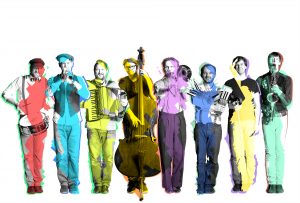 "The last name – and what a name – was Habadekuk.
Crickey, what a finale. You can bet the dance floor
came alive. It was impossible to sit still."
Jyske Vestkysten on performance at Danish Music Award Folk
Powerful horns, toe-tapping fiddle and contagious rhythms characterise Habadekuk – one of Denmark's leading folk bands, guaranteed to get you on the dance floor. With a vibrant mix of folk, salsa and big band jazz, the lively eight-man band catapults old folk melodies into the 21st century. Expect everything from wild polkas and jigs to lyrical waltzes and rough n' ready sailor songs in an unforgettable live experience.
The band has wowed audiences across Europe and Canada. They have appeared at Tønder Festival, Skagen Festival, Strib Vinterfestival, Glastonbury Festival (UK), Cambridge Folk festival (UK), WOMAD (UK), Beverley Festival (UK), Mission Folk Festival (CAN), Canmore Folk Festival (CAN), Calgary Folk Festival (CAN), Winnipeg Folk Festival (CAN), Vancouver Folk Festival (CAN), Korrö Festival (SE), Linköpings Folkmusikfestival (SE), Irish Guinness Festival (CH), NAFCo Fiddle Conference (IRL), Festival des Traversées Tatihou (FR), Gooikoorts (B), Dranouter (B), Sounds of the North (PL), Haukelister Festival (NO) Koskis Folk and Folklandia (FIN), Rudolstadt (DE) Rainforest World Music Festival (MAL).
Talented musicians from various branches of the Danish music scene make up the group. You can bet they get the party started!
Both the Habadekuk CDs, "HOPSADADDY", "KAFFEPUNCH" & "MOLLEVIT" are released on the record company Go Danish Folk Music, more info here!
Habadekuk is:
Jakob Holdesen Trumpet *Rasmus Fribo Sax * Emil Mathiesen Double bass * Theis Juul Langlands Piano * Peter Eget Accordion * Kristian Bugge Fiddle – plus at the moment various musicians on drums and trombone
Website: www.habadekuk.dk
Facebook: www.facebook.com/habadekuk