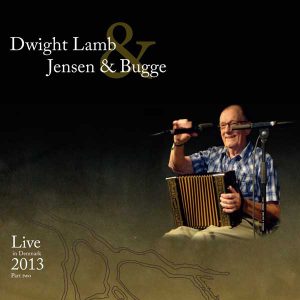 The fairytale with Dwight
Description:
The fairytale with Dwight
Since our first CD in 2010 the fairytale with Dwight Lamb has continued and has taken our trio far around. Jensen & Bugge went to Quebéc to play at a festival and at a restaurant in town Mette started talking to a scottish accordion player. He started telling her a story that he had heard at a festival in California: two young Scandinavian musicians found an old forgotten treasure of a folk music repertoire out on the Midwest prairie. Mette listened quietly until she could tell him that it was the exact story of Dwight, Kristian, and her. Oh boy, it sure IS a good story, and it still continues
to develop. Dwight keeps remembering more and more of the old tunes. His wife Carmen is telling how he wakes up in the middle of the night and starts whistling when another one of the old, forgotten Vendsyssel-tunes pops up in his mind. We've been far around with Dwight. During the big Danish Tønder Festival, we were interviewed by quite a few radio stations. We were of course happy to take part in that, but didn't have time to hear how it came out since we were too busy playing our gigs. The Danish Radio P1, visited our website and read our calendar in the radio. There was ONE gig though where they didn't notice the detail that the duo was hired to play background music (without Dwight) for a meditation service in a big church in the city of Århus (a completely normal gigs for a folk musicians these days). So we left Dwight and our other great friend Bill at a nice looking café while we continued to the church, only to find the church door decorated with a big hand-written poster announcing that Dwight Lamb would come and play in the evening. That made Mette a bit nervous, Dwight's tunes are great, but maybe not exactly made for the type of meditation you normally have in mind for a church service. The pastor explained that they've had a telephone storm after Danish Radio P1 in the morning had broadcast our interviews and told that we would be playing in Århus that night. We hurried back to the café to pick up Dwight and Bill! During the sound- check we found out that rather than playing background music for the pastor's reading from the Bible, we'd alternate between the reading and Dwight's polkas and waltzes. Mette's nervousness was proved wrong and the audience in the packed church was very happy.
In the area of Vendsyssel we met some good people who helped us with local historical information on Dwight's family, so we were around and saw the old houses, places, and images from the mid and late 1800s. A very friendly Danish musician gave us a "new" single-rowed accordion that he had received as a gift for his confirmation, but he had never got around to play it. Kristian got it repaired and tuned and brought it over to Dwight the next time him and Mette came to visit. And the CD that you're holding in your hand was recorded with that very accordion! In the little prairie town of Elk Horn, Iowa, we played for the annual Tivoli Fest. Elk Horn is an old Danish settlement and there is no doubt that the place is still very Danish. The Little Mermaid, the Landmandsbanken, and last but not least, the beautiful old windmill from Nørre Snede, Denmark. We were welcomed with a great breakfast of æbleskiver and medister (Danish pancakes and sausages). For lunch they served us open faced sandwiches and delicious kringle. We
experienced hospitality and an awareness of one's roots, that you have to look far to find elsewhere. At the cozy local bar in Viborg, South Dakota we had plenty of free drinks after playing the Danish bridal waltz and other Dane classics. South Dakota Public Broadcasting, made a full hour concert – and interview program with us. A program that was replayed a number of times, after that we were recognized several times on our tours in South Dakota. The Festival of American Fiddle Tunes invited us over for a whole week. We made workshops and played for dances and concerts. Our first trio CD "Dwight Lamb, Jensen & Bugge – Live in Denmark 2010" had come in advance. We were both happy and surprised to find that the musicians already knew some of Dwight's old Dane tunes. The great stories and tunes are countless and we welcome them warmly, we feel very fortunate to be part of it all and look forward to the continuation.
Musicians:
Dwight Lamb: one-rowed accordion
Mette Kathrine Jensen: five-rowed accordion
Kristian Bugge: fiddle
Guests: Morten Alfred Høirup: guitar (Tønder and Højby)
Anders Ringgaard: trombone (Højby)
1. Mette's opposite polka 2.11
2. Croocked waltz 1 2.31
3. New schottis 2.19
4. Solo polka 1.12
5. Polka 1.19
6. Four part waltz 2.17
7. Brand new polka 1.45
8. Brand new schottis 1.32
9. Dagmar polka 2.14
10. Croocked waltz 2 1.52
11. Made up tune 2.12
12. Kræn Jerups hamborger 1.46
13. Mor, jeg skal tisse + Ude på landet 3.18
14. Three part polka 2.08
Bonus tracks (previously released on our first trio album):
15. Crested hen 1.43
16. Two Quadrilles 3.54
17. Oh Susanna 4.26
18. Two part waltz 4.11
19. Galop 1.40