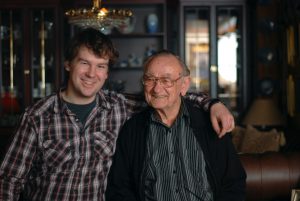 In this duo, Kristian played with the legendary accordionist Karl Skaarup from Thy, who was his teacher while studying at the Music Academy, but later they played concerts and dances together.

Karl Skaarup was born in 1924 in Koldby, Thy, in the north-western part of Denmark, and that is where he still lives. At the early age of four Karl played his first gig on his one-row button accordion. He later progressed to two-row and five-row accordions. Sadly Karl passed away on November 12th 2013.
Since the early 1980's Karl has played six times a year at traditional dance evenings at the Snedsted Inn. At such occasions the repertoire consists mainly of tunes from the Thy area. Over the years the renown of Karl and his music has spread steadily throughout his native country and abroad. He is frequently invited to play in various local folk music circles and fiddlers' conventions all over the country. He plays for private gatherings, common folk dancing, and proper »Thybal« — the time-honored dance evenings with traditional tunes from Thy. As an instructor he is used at workshops and conventions, as well as at the Folk Musik Programme at The Carl Nielsen Academy of Music in Odense.
For the last many years, when not gigging on his own, Karl played in one of three lineups: in Skaarup's Four alongside Kenneth Krak, Esben Wolf, and Malene D. Beck; in Karl Skaarup's Trio with Jack Jacobsen and Gitte Thofte; or, as in the tracks on his CD, "Musiker" in duet with fiddler, Kristian Bugge. In October 2008, a grand party was thrown in his honor at the Snedsted Inn celebrating his 80th anniversary as an active folk musician! And in March 2009, Karl Skaarup was honored at the Danish Music Awards/ Folk-ceremony, where he received the annual »Mediator Award«. And only about a month before his death, his 85th anniversary as an active folk musician was celebrated in a packed Vestervig Church in his home region of Thy!
MySpace: www.myspace.com/karlskaarup