G A N G S P I L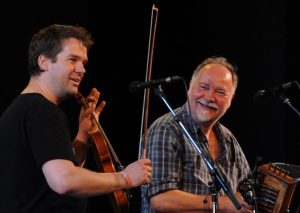 Experienced and versatile Danish folk music!
Watch Gangspil live at the Twin Cities PBS in Minnesota, USA!
Sonnich Lydom (accordion, harmonica, vocals) and Kristian Bugge (fiddle, vocals)
2016 was a really great year! Receiving the "Tradition Award" at the Danish Music Awards (Danish Grammy) and playing more than 50 concerts around North America as well as a good number in Denmark too. We are delighted and proud of that, it has been great to play for you all!
We – Kristian and Sonnich – are regularly touring in the US, as well as the rest of the world.
Keep an eye on our websites www.trad.dk, www.facebook.com/traddk, and www.twitter.com/GangspilDenmark where we'll keep you updated 🙂
——————-
In 2016 Gangspil performed more than 50 concerts and dances, in about nine American states, and in British Columbia, Canada.
We played in peoples private homes, in folk clubs, sports halls, culture houses, Scandinavian centres, fiddle shops, museums, parks, cafes, churches, folk festivals, restaurants, radio stations and in quite a few Scandinavian fairs and heritage festivals.
We had a great time, and we met a lot of absolutely wonderful people!!
In 2019 and 2020 we are looking forward to continue the North American journey, as well as breaking new land in Europe.
If you are interested in booking the band, or if you know somebody who are, please do contact us.
Concerning the US, we have a one year long work permit ready from early spring 2017!
——————-
Sonnich (accordion, harmonica, vocal) is a master of Irish, French-Canadian, and especially Danish traditional tunes. During the last 25 years he's been leading the revival for diatonic accordion and harmonica in the Danish folk music. Sonnich holds a special place in his heart for the music from the Western Island of Fanø, where his family is deeply rooted.
He is best know from his work with the ULC trio and later quintet (adding jazz pianist Peter Rosendal and bassist Mads Vinding). ULC recieved the Danish Music Award (Danish "Grammy") in the category "Folk Album of the year" in 2001 and 2004.
Kristian (fiddle) has specialized in the strong Danish folk music traditions. He is very active on the Danish and Scandinavian folk music scene as well as in the rest of Europe and North America, both as a musician and teacher.
His debut CD was awarded "Danish debut of the year" and "Danish Folk Instrumentalist of the year" at the Danish Music Awards Folk 2006 (Danish "Grammy"). At the same occasion in 2012 and 2016, Kristian received the prize as "Danish Folk Artist of the Year!"
The musicians are known from bands like: Baltic Crossing, Habadekuk,  Jensen & Bugge, ULC, Marianne Green Band and Dronningens Livstykke.
The first album, "Gangspil", was released in the summer of 2015! The U.S. release took place at the great Festival of American Fiddle Tunes in Port Townsend, WA in the first week of July. The Danish/European release was celebrated at the Tønder Festival in Southern Denmark in the last weekend of August.
Web: www.trad.dk
FB: www.facebook.com/traddk
Video: www.youtube.com/watch?v=9Q3575mIMBg
Record Company: www.gofolk.dk